Welcome to E-Portfolio
E-Portfolio is a fully featured electronic portfolio system for Group IV and Group III staff of National Metallurgical Laboratory.

About CSIR-NML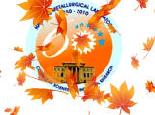 National Metallurgical Laboratory, the third in the Council of Scientific &Industrial Research (CSIR) family of 38 laboratories. NML has a centre at Chennai also. NML can boast of not only excellent facilities but also highly skilled manpower with expertise in their respective area. NML is celebrating its diamond jubilee year of dedication for the future and is looking forward for several fruitful future endeavors for the benefit of science and common people.


Log In To Edit Your Portfolio
Portfolios
Click on the following pictures to see portfolios of manpower in a division.
| | | | |
| --- | --- | --- | --- |
| | | | |
| Director NML | Advisors | Emeritus Scientists | HRG |
| | | | |
| BDM | CSE | ANC | ENG |
| | | | |
| ICT-U | MST | MEF | MNP |
| | | | |
| IMDC | NML-MC | ALL | Un-Registered |